Perch Pack
$104.00
Features
The IdeaPaint Perch Pack is a modular, magnetic, wall-mounted system that organizes office clutter, and provides a home for your dry erase supplies (IdeaPaint supplies included!).
What the Perch Pack contains: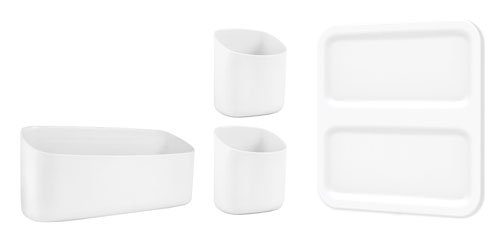 1 White Perch Wally wall mount (10.00'' wide 0.31'' deep 10.00'' tall)
1 White Perch Stumpy container (9.39″ wide 3.39″ deep 4.41" tall)
2 White Perch Bitsy magnetic containers (3.68″ wide 3.11″ deep 4.41″ tall)
(4 Command™ Large Strips, 5 Phillips flat head screws, 5 drywall anchors,
and Installation instructions)
4-Pack Multi-Colour Dry Erase Markers
8 oz. Cleaning Spray
2 Microfiber Cleaning Cloths
2 Erasers
1 IdeaPaint Decal
Download Installation instructions for the Perch Pack.